Hello Baby
Hello Baby was built in the courtyard of a gigantic middle-class mansion
Hello Baby is a really new, cosmopolitan dash of color in the spectrum of Budapest's clubs,
it's a bit different, a bit more than the others. The scene is set in the Haggenmacher-palace,
which was built in 1886, the capacity of the club can be as many as 1,000 persons,
so you shouldn't imagine a little hole, which has been transformed from ruin bars.
Hello Baby is located outside of the crowded streets of the 5th District studded with trendy clubs,
or the 7th District teeming with ruin-pubs. Of course, you shouldn't suddenly think of an unpleasant location,
you only need to walk to an establishment well within the city-center,
just a few meters' distance from the Oktogon to Adrássy avenue, which can even be a pleasant break in a
cool summer evening after a few shots of vodka.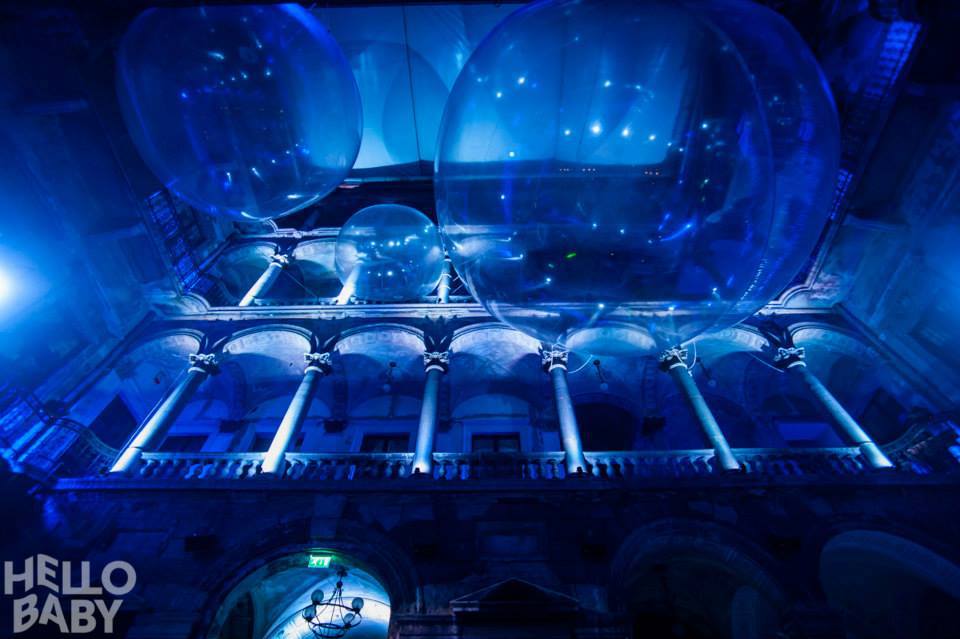 In our opinion, the interior is well thought through and extraordinary, it takes us soaring into such an exceptional atmosphere,
which perhaps no other club is capable of, just imagine, that during the day the first floor of building is the home of a beautiful library.
Hello Baby was built in the courtyard of a gigantic middle-class mansion, and its premises are located on the ground floor.
The higher floors of the courtyard, with traditional open corridors, are covered by huge transparent balloons,
which embraced the establishment into a frame in a unique way, and at the same time provide it with a trendy minimalistic style atmosphere.
The building needs major renovation, but this is exactly what is fortunate for Hello Baby.
The entertainment spot's ruin characteristic emits such an unparalleled atmosphere, which renovation, restoration could only make worse.
It's a great question to what extent they will be able to retain its function in its current condition,
considering the fact, that the Haggenmacher-palace is a historic monument, therefore it would need a high degree of protection.
The audience frequenting Hello Baby was rather attractive to us, in its own mixed characteristic.
Among musical styles everything can be found from electronic music through R&B, to popular hits,
what disturbed us a bit was the insufficient quality of the acoustics or the audio system of the place... the resonance could be a bit softer,
while the volume higher. We couldn't mention any complaints related to the service and the staff either,
to sum it all up, we really loved Hello Baby and if we were visiting Hungary from abroad, this would certainly be one of the entertainment spots we would visit.