We found Budapest's tourist magnet
We glimpsed the perfectly positioned label for taking selfie
We glimpsed the perfectly positioned label for taking selfie and group photos on the Heroes Square on Friday evening. Because nothing suggested why the giant letters was placed there, we went closer and we determined the following facts:
- The letters consist of slats and colorful lights.
- The visitors become hysterical near by. The selfie and group picture making is continous, which is understandable because with the installation, it is possible to summarize everything what a long weekend tourist like to say, on a Facebook compatible picture. 1. I'm here. 2. This is the city's name. 3. I saw such beautiful things.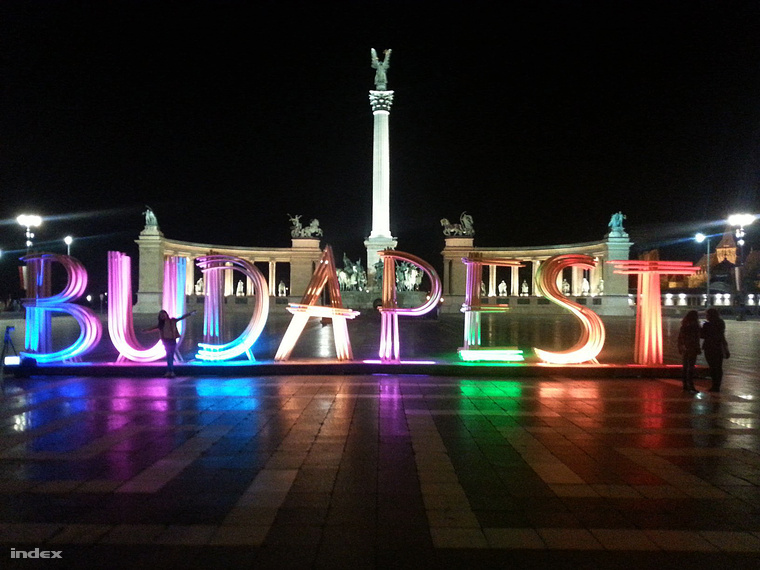 Between the billowing Japanese, English and Hungarian visitors I noticed a small, startled group. It is revealed that they are the creators who set up the work 30 minutes ago and they would work on the setting of the lights, but this is nearly impossible because of the people rushing at the semi-finished attraction.
The installation was made for the spring festival by the tree builder Hello World team, who worked out the plan with Gábor Zoboki builder of the Palace of Arts.
The accidental meeting can be suspicious for the reader, because I've already wrote enthusiastically about the team last summer. In contrast, the truth is that I accosted the team like an old friend and revealed that they have to do with the work. Wich wasn't set up by the mandate of the Nemzetközi Csoportképfotózási Társaság, but the occasion of the Spring Festival.