Szimpla
To tell the truth, it's actually worth stopping by here with our foreign acquaintances..
Szimpla garden, which is the pioneer of the entire ruin-pub culture, is almost a concept of its own in the
nightlife of Budapest. It's the oldest and at the same time the most famous ruin-pub in Budapest and
it offers programs that are all incredibly colorful on every day of the week. It's undoubtedly the most
well-known spot, even if we ask foreigners. To tell the truth, it's actually worth stopping by here with our
foreign acquaintances. Nothing illustrates this better than the fact, that in 2011 the readers of the Lonely Planet,
a worldwide internet program suggestion magazine, voted Szimpla to be the third best pub in the world.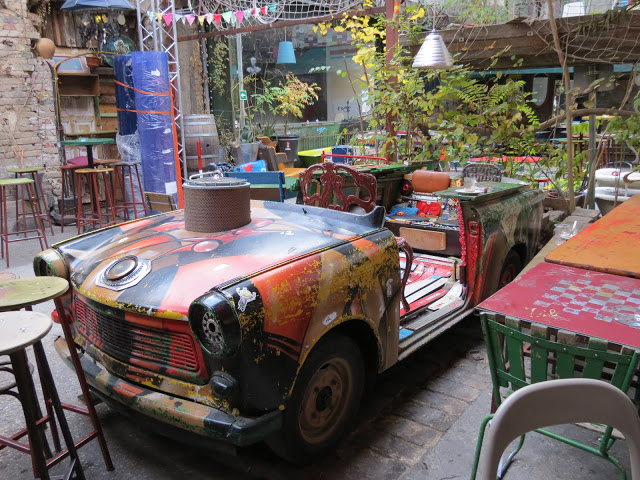 The large interior space, which the pub occupies today, was once the interior space of a city-center condominium,
several apartments which were combined. The inner yard of the building, with outside corridors, is a pleasant
place to sit outside on garden chairs, there are additional halls upstairs, and there is a bar counter upstairs
as well to make sure that the drink supply isn't interrupted.
This is the first place where I have ever seen a tub cut in half which functions as an armchair, and the flashing
CTR motors in one of the halls are also very captivating, or I could mention the small convertible Trabant,
which is parked in the garden with benches in it...
So this entertainment spot is ample with design... but this much isn't enough for notoriety. There are concerts
organized here frequently, sometimes there are movies projected on the large screen in the garden.
Szimpla has three sisters: Szimpla coffee-house in Kertész street, which commenced even before the garden,
there is a Szimpla in Vác and a Szimpla Budapest in Berlin.